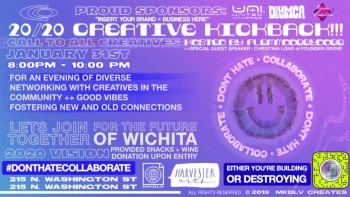 2020 Creative Kickback
January 28, 2020 | Kate
MKBLV+CO / UNITED UNIVERSE INC, Harvester Arts, Rajidae P+M and DIYMCA present:
20/20 CREATIVE KICKBACK
A gathering of creatives to network, collaborate and unlock the potential of our combined talent.
Join us in creating the future of the arts in Wichita. The only way to cultivate the space we need in our city is to UNITE. You're either building or destroying.
BUILD TOGETHER.
WORK TOGETHER.
#donthatecollaborate
This is our collective vision for the year 2020.
Come and share your VISION and be heard by others fighting for the growth of our creative community.
Hosted by FLEMMDOGGYDOG
215 N. Washington l Harvester Arts
January 31st l 8-10 PM
Snacks + Beverages Provided
DONATE UPON ENTRY
Tags: