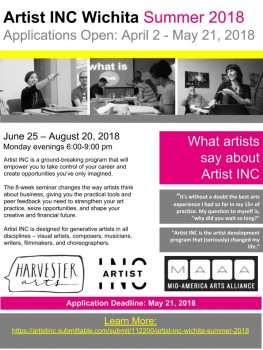 Artist Inc Applications open!
April 17, 2018 | kate
​Apply Now! Applications accepted through May 21st, 2018.
We are so thrilled to be offering this program, see Artist Inc Wichita for more detailed information!
Artist INC is a cutting edge training seminar that addresses the specific business needs and challenges artists of all disciplines face every day. Limited to 25 participants per session, artists gather for one night a week for eight weeks to learn business skills specific to their art practice and apply those skills cooperatively with their peers. Using an innovative class design, artists learn and grow together through artist facilitator mentoring, small group application activities, as well as large group discussion and multi-media lecture. Now in its ninth year, the Artist INC workshop has been completed by more than 1000 regional artists. Artist INC Wichita is hosted by Harvester Arts and supported in part by an award from Mid-America Arts Alliance, The Kansas Creative Industries Commission, The National Endowment for the Arts and individuals throughout Arkansas, Kansas, Missouri, Nebraska, Oklahoma, and Texas.
Tags: