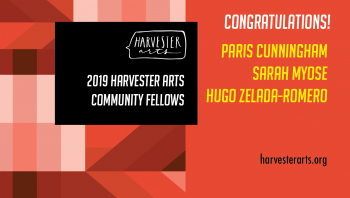 Community Fellows announced!
October 1, 2019 | kate
Harvester Arts awards Paris Cunningham, Sarah Myose and Hugo Zelada-Romero the 2019 Harvester Arts Community Fellowship.
The three winning proposals use art as a vehicle for representation by creating opportunities for communities in Wichita to see themselves, their needs and their lives reflected in contemporary art practice.
Paris Cunningham plans to employ digital storytelling to create common ground and connection between the variety of people that live in Wichita. Sarah Myose will create an art-based campaign to increase voter turnout, civic engagement, and dialogue on modern political issues in marginalized communities. Hugo Zelada-Romero's project will explore ideas of representation through the centuries-old photographic process of site-specific camera obscura.
Supported with a $70,500 grant award from the Knight Foundation Fund at the Wichita Community Foundation, the three Fellows will receive tangible support and career development from Harvester Arts. The Community Fellows Program recruits and trains creative thinkers who seek to make an impact on the community through their work. Harvester Arts provides mentorship, financial and practical support, as well as training for creative entrepreneurs in the Wichita community. The Fellows will receive individual stipends of $2,500 per year for two years and up to $8,000 in seed funding for their projects.
"Our goal is to empower creatives to become culture producers, and create opportunities for each other," said Kate Van Steenhuyse, Harvester Arts, Co-Founder and Executive Director. "Individuals trained in placemaking and socially-engaged art will be key to transforming the core of our city."
Tags: