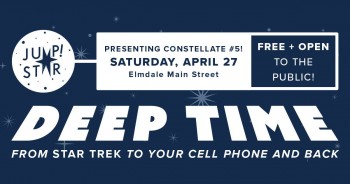 Constellate 5: Deep Time
April 16, 2019 | kate
FROM STAR TREK TO YOUR CELL PHONE AND BACK
April 27, 6:30 p.m.
Main Street, Elmdale*
Join the JUMP STAR initiative for a moderated conversation and screening of 2001: A Space Odyssey.
We'll explore how Sci-Fi thinking impacts pop culture and how popular culture influences science. By imagining the distant future, we can start creating it now!
Conversation facilitation by Mike Hankins, Professor of History, Strategy and Security Studies at the USAF Air Command. He is a former instructor at the USAF Academy. He completed his PhD in History at Kansas State University in 2018.
Guests include:
Rachelle Smith: Professor or Composition, Rhetoric, African-American Women's Literature and Science Fiction at Emporia State University.
James S.J. Schwartz, PH.D: Fairmount Lecturer, Department of Philosophy, Wichita State University Coordinator, Wichita Space Initiative.
Caleb Gimar: Graduate Student, Wichita State University, Department of Mathematics, Statistics and Physics Space Science Educator.
*This event is outdoors, please dress accordingly. Bench seating is provided but you are welcome to bring lawn chairs. If the weather turns nasty, the event will be moved indoors.
Tags: