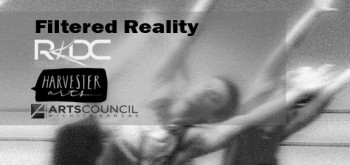 Filtered Reality
September 25, 2017 | Kate
Join us for performances on Sunday, October 1 @ 4pm & 6pm of Filtered Reality!
TICKETS: http://www.rkdc.org/filteredreality
(Most of the audience will stand and be free to walk through the space during the performance, limited seating available for those in need.)
Harvester Arts presents Filtered Reality, a collaboration between choreographer Regina Klenjoski (Regina Klenjoski Dance Company) and visual artists Corbie Leiker & Kaitlyn Wall. This performance is an evening of movement in life and in multiple realities with sound design and live performance by Ryan Windham and film by Brad Schelton. Filtered Reality features exhilarating site-specific dance, provoking life-size charcoal drawings, live music and dreamy film work that explores the line between fantasy and reality as we wrestle with illusions in our digitally driven world. Harvester Arts, (supported in part by the Wichita Arts Council), is a platformfor visual arts experimentation that engages the community through critical dialog and the creation of new work. Filtered Reality was created in response to Harvester Arts residency artist Cheyla Clawson Chandler's frames + facades that was presented in February 2017.
Performed by Brennon Madrid, Makayla Williams, Emily Schulze, Max Mayerle, Katie Anderson, and Elleigh McClelland.
Get a sneak peek of the work and talk to the artists:
Sneak peek Final Friday @ Harvester Arts, September 29, 6-9pm
Sneak Peek North End Urban Arts Festival @ Nomar Market, 21st and Broadway, Saturday, September 30
Tags: