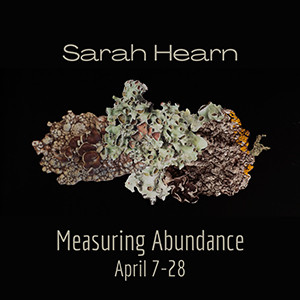 Happening at Harvester - April 2023
April 6, 2023 | Kristin
APRIL FIRST FRIDAY
Harvester Arts is excited to welcome Trish Higgins Fine Art to our space to present Measuring Abundance, a collection of work by Sarah Hearn.
Please join us on Friday, April 7 from 5-8 PM. Trish Higgins Fine Art focuses on curating shows with regional artists.
Sarah Hearn is an interdisciplinary artist, researcher and educator based in Norman, OK. Through research-based explorations of biological life and natural phenomena, Hearn's art practice inhabits two realms - one grounded in studies of life on planet earth, and another in an atmosphere of science fiction. Her artwork reveals a multitude of invisible worlds hidden in nature opening a path of discovery to empathetic interspecies learning/appreciation. The artist works fluently in the media of drawing, photography, installation, book making and social practice. She frequently collaborates with fellow artists, scientists and municipalities on rhizomic projects that expand the fields art and the concept of community.
HAPPENING AT HARVESTER ARTS
Hungry?! Have a Snack! is an opportunity for artists and creatives to share works-in-progress, excerpts, and any wild experiment they are playing with currently. This is a monthly event, and we hope you'll join us for the next one on April 8!
If you're interested in participating or want more information, contact Gavin Myers at hungry.havea@gmail.com.
HAPPENING AT STUDIO SCHOOL
Please join us this First Friday, April 7 from 6-8 PM for "Intercultural Dialogues of Earth and Us" featuring work by Dr. Lori J. Santos and Vladimir Ramos in the Arnold Gallery at Studio School, 751 George Washington Blvd., Wichita.
This exhibition is the first in a series of events brought to you by the Harvester Arts Residency at Studio School. Local artist Meghan Miller is in residence at the Studio School and will be bringing programming to the Arnold Gallery as part of her residency.
THE SHOW YOU DIDN'T KNOW WAS HAPPENING
The show, THE SHOW YOU DIDN'T KNOW WAS HAPPENING, is happening on Saturday, April 15 at 7:30 PM
Harvester Arts and Studio School are partnering to create more opportunities for this new performing arts space. Smack Dab Dance Lab is pumped to be producing a show with choreography from Cheyla Clawson, Elleigh McClelland, Rhiannon Vieyra, Gavin Myers, Sheldon Mba, and Mina Estrada. Plus, a stunning musical performance by Josue Estrada and Kylie Brown with a movement improvisation jam at the end that is open to the audience. Bring your friends and foes, bring your young ones and elders, bring your neighbors and lovers. Seating is limited so grab your tickets now!
ONE MOVEMENT TO LINK ARTS DOWNTOWN AND TO THE RIVER
Chainlink Gallery Place expands to the river in partnership with Exploration Place to open Exploration Gallery Place as interactive art experience; creative link to the river.
Opening as inviting makerspaces for creatives and the community alike to play and experiment with art interventions, Exploration & Chainlink Gallery Place are envisioned as catalysts that activates the arts to establish the river as Wichita's premier public domain creating linkages within the urban core of our city. This project not only creates exciting destinations, but also lays the foundation for a larger community arts movement.
At the site of Exploration Park, at the NE corner of McLean & First St, Exploration Gallery Place will act as a place for the community to express their creativity, play and experience the works of many talented local artists. Admission is free of charge.
"Exploration Gallery Place is born of a partnership between two local organizations that utilizes local talent to creatively activate the site and explore ways to transform areas in our urban core," said Aaron Asis, a visiting artist and designer from Brooklyn, NY. Asis has been working with Harvester Arts for the past year and was selected because of his background of working with government agencies, non-profit organizations, and community groups to document under-appreciated phenomena and to exhibit work in unexpected places. Aaron Asis's work is focused on sharing art experiences outside of art spaces to inspire personal thoughts, and create public opportunities where people can learn, explore, and share throughout our cities.
OPENING DAY
Exploration Gallery Place will open from noon to 5 PM Saturday, April 22 with High Five for the Future, a community art activity facilitated by Harvester Arts inviting participants to envision a brighter and more sustainable future, and contribute their ideas to the new collaborative, community mural wall, the Flint Hills Fairies, a silent disco, a new zen garden installation and more!
Exploration Gallery Place will be staffed on:
Thursday's from 5 - 8 p.m.
Friday's from 3 - 6 p.m.
Saturday and Sunday's from 1 - 5 p.m.
The playground will remain open as usual.
Tags: Community, Exhibitions