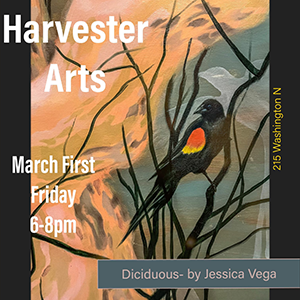 Happening at Harvester - March 2023
March 1, 2023 | Kristin
In the Gallery: Diciduous by Jessica Vega
This month in the gallery, Jessica Vega's Diciduous fills the space with sublimely transcendent imagery of nature and humans. When asked to describe this collection of work, Jessica responded with "Shifting moving forming falling fast forward back in the outside of webs and wolves and twigs running arms and foot on stone and paw hoof replacing walk to gate gait keeper trap fence in space just jump Jess bow become does with crooked jaws bite." It is as intriguing as it sounds…
Join us for the opening reception this First Friday, March 3 from 6-8 PM to celebrate this stunning show. There will also be a closing reception on March 31.
Hungry?! Have a Snack!
Hungry?! Have a Snack! is an opportunity for artists and creatives to share works-in-progress, excerpts, and any wild experiment they are playing with currently. This is a monthly event, and we hope you'll join us for the next one on March 18!
If you're interested in participating or want more information, contact Gavin Myers at hungry.havea@gmail.com.
Happening at Chainlink Gallery Place
Come down to Chainlink Gallery Place from 2-5 PM on Saturday, March 4 to celebrate the final day of the Community Care Drive and enjoy local vendors, artists, and food from Funky Monkey Munchies!
The Community Care Drive is organized by Trust Women, Planned Parenthood Great Plains, URGE, Kansas Birth Justice Society and a whole host of local businesses and supporters to bring community health products to those who need them. They are collecting donations of period products, maternal health products, infant supplies and non-perishable food items. It's an easy way to make a big difference, and with several drop-off locations across Wichita, you're never far from an opportunity to help a neighbor in need.
From our Partners
WAM Nights
Starting March 10, WAM will start keeping their doors open until 9 p.m. on Friday nights. WAM Nights is an after-hours opportunity to see the gallery, check out the gift shop, and grab dinner at 1400 by Elderslie. Stay tuned for many Harvester Arts/WAM collaborative programs during WAM Nights!
On Friday, March 31 at 6:30 p.m., artist Robert Peterson will be there for a gallery talk. His work "Sunday Kind of Love" is a newly acquired piece in the permanent collection. WAM Nights are free and open to the public.
Tags: Community, Exhibitions