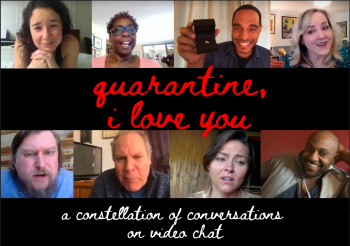 Mothership Sunday Community Cinema Convo with Nitzan Mager
June 26, 2020 | Kate
Conceived by filmmaker Nitzan Mager over the last 3 months, Quarantine, I Love You is a collection of short, interconnected scenes that take place on video chat, with some very relatable scenarios.
Binge Season 1 in less than half an hour and join us on Sunday, June 28th at 4pm CST for a Community Cinema Convo with Nitzan, and New York-based actor Ruffin Prentice and Wichita-baed actor Arietta Austin. PLUS, we'll live stream episode 8 - the season finale - and have an exciting announcement about Season 2!
Episode 8: As Nate and his cousin Terrell try to get their 90-year-old nana on a zoom call, they fall into a heated and cathartic conversation on the Black Lives Matter movement. (Starring: Ruffin Prentiss (co-writer for Episode 8), Landon Woodson, and Arietta Austin)
JOIN THE CONVO:
Meeting ID: 868 3274 6544
Password: 856923
Nitzan is the first resident of Harvester Arts & mama.film's Mothership Screenwriting Lab. She is an award-winning filmmaker living in Brooklyn, NY. Recent works include a commissioned short on Gloria Steinem that featured Justice Ruth Bader Ginsburg, and a hybrid feature that premiered at the 2018 Tallgrass Film Festival, A Scientist's Guide To Living and Dying, in which Nitzan followed her real-life pregnancy on film within a fictional story.
Tags: