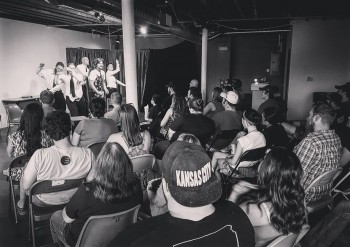 The Mens Scrapbooking Club
July 17, 2017 | Ryan
The Mens Scrapbooking Club is back at Harvester for 2 night's of all new performances on Friday, July 28 and Saturday, July 29. Come experience a sampling of absurdist sketch comedy and experimental performance art.
Fri. July 28 - 8 PM
Sat. July 29 - 8 PM
One third, super secret show at undisclosed location, undisclosed time. Only a lucky few will know.
Does it cost human money? Probably, but never much. Probably $5, or negotiated sum.
The MSC started as a fraternal organization of alpaca farmers in 1932 in the Pacific Northwest, and over the years has morphed into an Absurdist sketch comedy show and experimental performance art show and antique car show/cooking class. Age limits 18-67. Super free with military discount.
Starring:
Andy McMillin

Brent Duncan
Jarett Young
Tim Rogers
Christy Campbell
...and special guest appearances by Andy McMillin, Tim Rogers, Christy Campbell, Brent Duncan and nobody else.
For more information visit themensscrapbookingclub.com.
Tags: Community