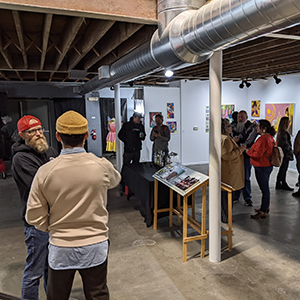 This week at Harvester Arts - Dec. 5-11
December 8, 2022 | Kristin
Mina Estrada on KMUW
Our own Mina Estrada was featured on KMUW this week discussing her vision to push the boundaries of dance in Wichita. Listen HERE.
This weekend at Harvester
Join us at Harvester Arts on Saturday, Dec. 10 at 5:30 PM. for the workshop AND check out the Artist INC alumni exhibition on view in the gallery. There's also a Hungry!? Have a Snack! matinee at 3:30 PM.
WHAT WORKS workshop
WHAT WORKS IS A WORKSHOP BASED ON SHARING THE COMMON BEHAVIORS OF SUCCESSFUL ARTIST ENTREPRENEURS.
These tenets are based on working with thousands of artists and are the basis of the Artist INC program. Applications for the 2023 cohort are now open.
Apply here: https://artistinc.art/apply/.
Artist INC Alumni Show
Since 2018, Harvester Arts has been facilitating Artist INC for Wichita creatives. Artist INC is a program of Mid-America Arts Alliance (M-AAA) that provides professional development to artists throughout the midwest and beyond building networks, communities, and careers. All December we will be celebrating the work of artists from the past four cohorts with a group exhibition of Artist INC alumni on view through January 6, as well as Hungry!? Have a Snack! featuring Artist INC alum and a What Works workshop which shares the common behaviors of successful artist entrepreneurs.
This week at Harvester Arts:
Drop in gallery hours:
Wed., Dec. 7, 4 - 6 p.m.
Sat., Dec 10, 12 - 3:30 p.m.
Sun., Dec 11, 12 - 2:30 p.m.
Saturday, Dec 10
3:30 PM - Hungry!? Have a Snack!
5:30 PM - What Works workshop
Follow us on Facebook and Instagram for more December gallery hours.
If you are interested in joining the next Artist INC cohort in March 2023, applications are open now!
Chainlink Gallery Place
Black Bell Gasoline and Mausoleum
Join Robbie Bailey in a ceremonial ringing of the bells at Noon and 2 p.m. on Sunday, December 11 for his thesis installation, Black Bell Gasoline and Mausoleum. Featuring nearly 50 bells cast from an assortment of plastic gas canisters into forms of porcelain and bronze commemorating the mournful and yet joyous death of gasoline.
Robbie Bailey serves as the Chainlink Gallery Place site preparator. He has been working towards his master of fine arts (MFA) degree with an emphasis in sculpture at Wichita State University. Robbie welcomes audience and visitor participation in the ringing of the bells to note this milestone in his creative practice. Hot drinks and light snacks will be provided.
Chainlink Gallery Place is facilitated by Harvester Arts, in partnership with Bokeh Development, the Wichita Community Foundation and Lifeboat Creative and with support from the Kansas Creative Arts & Industries Commission and Knight Foundation.
Tags: Community, Exhibitions