Meet Sia Joung
Residence March 14, 2020 — March 22, 2020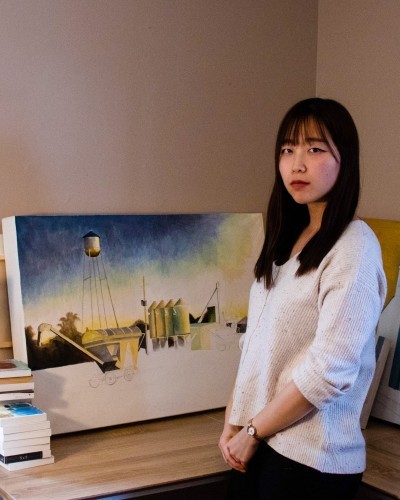 Postponed due to COVID. Currently working to reschedule.
Sia Joung is an artist who lives and works in Sterling, Kansas. She holds an MFA from Washington University in St. Louis and a BFA in Painting and Drawing from the University of Iowa. Her work has been exhibited throughout the US, including Mildred Lane Kemper Art Museum, St. Louis, MO, Des Lee Gallery, St. Louis, The Delaware Contemporary Art Museum, Wilmington, DE and Delaware College Art Gallery, Media PA.
"It's been always fascinating to observe how identities receive different views and change their distinctiveness as their location shifts. As an artist, when my identities shift in different lights, I use my mediums in work to reveal that change correspondingly."
"Growing up in a small town of Iowa, my interest and research on the Regionalism revealed an unexpected alienation of my identity as an Asian American. In a similar sense, living in a rural Kansas town has perpetuated my identity as a Christian without my intention to do so. With these experiences and observations, I investigate identity, history, and beliefs, and visualize their complex layers through an experimental study of a variety of materials and installations."
The Surface of Your Land
Building upon Sia Joung's foundation on the concept of Regionalism, she plans to research agricultural cooperative producers and diverse communities around the state of Iowa and Kansas during her residency at Harvester Arts. Simultaneously, she will explore how our surface of identity will react with the surface of the land.
Sia's time at Harvester Arts is currently postponed due to COVID-19 considerations. We look forward to having Sia in residence in the future!